Wedding talk: shoes
WARNING: Wedding talk ahead. No knitting in this post. I'm going to start posting a bit of what I'm doing for the wedding, but I promise to use appropriate subject lines so those of you who aren't interested can skip the posts, ok?
So today I got the new Lucky magazine and this issue's shoe spread is filled with ankle strap flats! SO PERFECT because I decided a month ago that I will be wearing flats to the wedding -- which you wouldn't think would be such a big deal, but you would be surprised at how many people seem downright insulted by the idea! When I told my friend Anne, she responded with, "What do you mean, flat? Like, flat flat?" (Anne reads this blog: Don't be mad at me Anne!) My mother responded, "But they're so casual and you're having a formal wedding, you just won't feel dressy without at least a small heel!"
To these all all the other objections I calmly explained that Adam is only an inch taller than me and I don't want to be taller than him in the pictures.
These discontinued Kate Spade skimmers could be perfect for someone in the same situation:
After the nay-sayers had to back down due to my obviously good point, I shocked them further by revealing that I plan to wear NON-WHITE flats. My mother thinks this is insane. Even Adam had his doubts. But I don't much care, because I hate white shoes and I think that most of them look orthopedic, or like nurse shoes, or like street-walker shoes. The ones above are a rare exception, but look how much cuter they are in RED:
Believe me, if this shoe was available in my size anywhere online (and I searched a LOT), I would already have bought it!
Even Anne had to admit the sad state of white shoes when together we went to a huge shoe store and looked at, and dismissed, literally every pair of white or off-white shoes they had. And don't even get me started on the sad white shoes available direct from the bridal store . . .
So I feel perfectly justified and even, dare I say it, reasonable, in my unorthodox idea of wearing non-white flats to my wedding. My dress is covered in lace and the bridesmaids are wearing purple . . . so I have no idea which pair of non-white flats I'll be wearing, but there are lots of options.
I might consider sandals like these:
I know these are white but I like the gold details!
Or slingbacks like these:
Although I'm not a big fan or yellow and I'm not sure about the flower . . .
Or something cute and funky like these: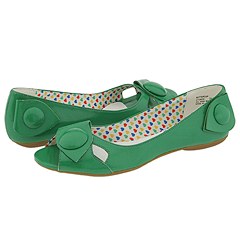 Although, again, I'm not too sure about the color although I love the style!
So to sum up:
I'm looking for FLAT, dressy shoes in a bright color. They need to be comfortable with cushy soles, and I'm pretty sure I want them to have a back of some sort so they stay on through much dancing. I also want the front of the shoe to look like it could be a heeled shoe, so that when my toes peek out from under my dress it doesn't look like I'm wearing flip flops or something . . .
I may have added a whole mess of possibilities to my Flickr account . . . should you be interested. BTW, click on any picture to go to a website to buy the shoes . . .
And if you come across a pair you think I'd want to see, please let me know!
---
6 Responses
Leave a Reply